SD cards have a lot of symbols and logos on them. What do the symbols on an SD card mean? What do the logos mean? There are a number of classifications and standards that the SD Association (SDA) requires for memory cards to earn those logos and symbols. You will also notice these same symbols on MicroSD cards, just significantly smaller.
Why are there symbols and logos on an SD card?
Think of the symbols as different awards an SD card can earn. The manufacturer of the card displays the logos on the front of the card just like when you display an award you earned. Most correlate to speed, the rest relate to storage size and speed. These symbols are also helpful for the consumer to determine what card will work best with your device! Some cameras and devices have a requirement for minimum speeds and storage to be compatible.
SD Card Symbols/Logos
Storage Size
The easiest to understand is the storage size. Your SD card is a memory card and it's primary function is to be a container for data. Storage size is how much data you can fit on your card. Gigabytes (GB) or terabytes (TB) are how we measure the space on a memory card. Usually the manufacturer marks the storage size of the SD card in the largest size. Always remember that the real-world capacity of the flash memory card will be slightly less than the labeled capacity.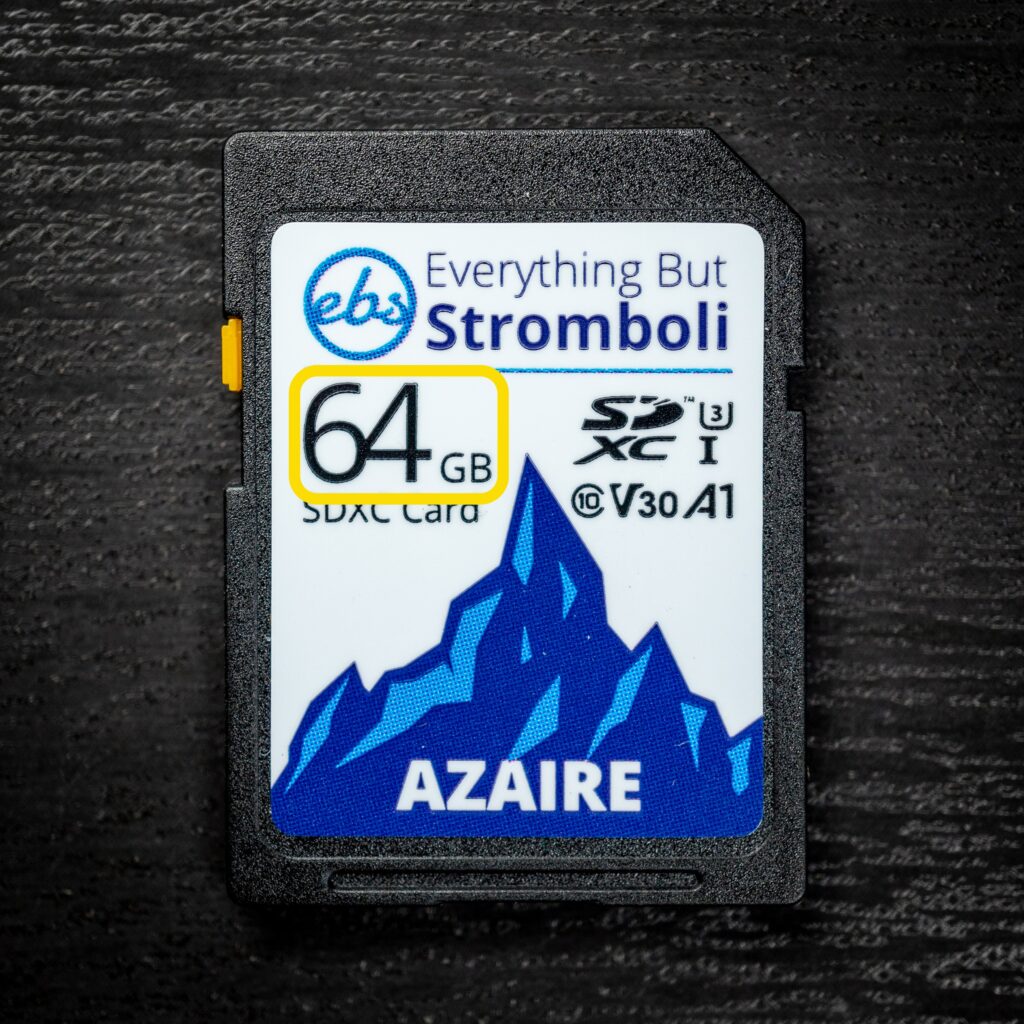 SD/SDHC/SDXC
On your SD or MicroSD card you will see the official Secure Digital (SD) logo. There are currently 4 sizes associated with the SD logo. They are SDSC, SDHC, SDXC, and SDUC.
SDSC is almost always abbreviated as just SD, but it means Secure Digital Standard Capacity. Cards with this logo are anything up to 2GB. This was the first card to include the "write protection" notch on the left side of the card.
SDHC stands for Secure Digital High Capacity. Introduced in 2006, the SDA offered a standard for cards up to 32GB. The addition of SDHC cards started shipping with the FAT32 file system.
SDXC means Secure Digital eXtended Capacity. The majority of newer cards today are SDXC because these cards can hold up to 2TB. SDXC cards were the first to have the extra pins that the UHS-II spec requires. More on UHS-II later as well as on our UHS-II blog.
SDUC is the most recently developed standard as of 2019 and is the abbreviation for Secure Digital Ultra Capacity. Developed in 2018, SDUC cards can have a capacity of up to 128TB! As of now, SD card manufacturers do not offer SDUC memory cards.
Class 4/6/10
The easiest way to identify an SD card is by it's class speed. In addition to several other speed-related logos, SD cards have a class rating. The class rating is the easiest to understand. Each class is named after it's own minimum speed, so Class 10 operates at 10MB/s.
Video Speed Class (V30/60/90)
However, there are better ways to describe the speed of cards. Now that flash memory has gotten so fast, the SDA has developed a new way to qualify cards for the growing video market. The video speed class symbol is a capital "V" followed by a 6, 30, 60, or 90, depending on what the minimum write speed is. So, V30 is typically the minimum for 4K recordings and UHS-II cards are often V90.
Application Performance Class
This new classification is the first to not only qualify a minimum write speed but also guarantee a specific Input/Output Operations per Second (IOPS). Application performance classes are marked as A1 and A2. A1 guarantees a minimum of 1500 reading and 500 writing operations per second, while class A2 is 4000 and 2000 IOPS. Both of these guarantee a 10MB/s transfer speed.
UHS Speed Class (U1/U3)
UHS means Ultra High Speed. This logo is just another way to classifiy speeds on a memory card. Not to be confused with the UHS Bus Speed, the UHS Speed Class has 2 measurements: U1 and U3. Both of these measurements signify minimum write speed, 10MB/s and 30MB/s, respectively.
UHS Bus Speed (UHS-I and UHS-II)
Unlike the other classifications on this list that only use a marking on the card, UHS-I and II are visibly different from each other when it comes to the physical build of the card. UHS-I cards have one row of 9 pins whereas UHS-II cards have two rows with the second row now having added 8 more pins. UHS-II can transfer data up to 156MB/s. There is also a UHS-III that can transfer up to 312MB/s! All UHS compatible cards use a Roman numeral next to the SD card logo.
For a more in depth look at these specs, read the blog we wrote that focuses entirely on this subject.

Josh Foley
SD Express is currently the fastest rating that can be given to an SD card. Cards with SD Express can achieve speeds up to 985MB/s! That's 6x faster than UHS-II cards! The best part about SD Express is that they are fully "backwards compatible". While using the same pin payout as UHS-II, they are able to achieve such dramatic speed increases by using PCIe and NVMe technology found in super fast SSDs.
The Symbols on an SD card in the real world
Real world tests will always fall short of laboratory test results done by manufacturers. The key thing to note is always the minimum transfer speed. When choosing your next memory card, start by considering where the card will go or what it will do. This will greatly help you determine what classifications you will need for your SD card to have. The great news is that you can easily sort by most of these classifications on our website to help you search through our large selection of the most well-priced flash memory.